Latest News.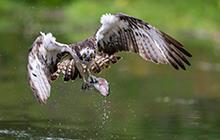 Monday 05th September 2016
International success for Steve
Steve Cushing's photo "Osprey with Trout" represented the English PAGB in the FIAP International Biennial Nature Competition. It was one of a panel of 20 photos which together resulted in England coming 2nd out of 19 countries and being awarded a gold medal. Well done to both Steve and the PAGB selectors!
Back to News