Latest News.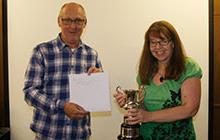 Friday 04th September 2015
Senior Residents' Competition Winner 2015
The winner of this year's Senior Residents' Competition, Marie Savage, was presented with the Festival Cup by Chairman Phil Hodson at the opening meeting of the season. As well as the Festival Cup, Marie wins a year's free membership of our photographic society. She also gained second place in the competition, whilst Jane Jagger was presented with the third place certificate.
Back to News