Latest News.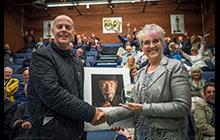 Wednesday 30th September 2015
Terry wins Kean first prize
The RPS North West Digital Group held their most recent meeting at Warrington and our own member Kean Brown won first prize in the print competition, held for those attending. The winning print was a gritty portrait taken of another of our members, Terry Hey. Kean is shown in the photo being presented with his trophy by Jay Haines, Chairman of the Digital Imaging Group. The portrait of Terry can be viewed in Kean's Gallery images on this website.
Back to News