Latest News.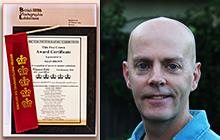 Wednesday 03rd February 2016
Five Star Photographer
Kean Brown, ARPS BPE5*, has just received news of his latest step up the ladder of photographic honours. Kean writes "I am very pleased to have received this in the post today... The BPE5* Crown Award. This is because I have now achieved 300 National Acceptances for my images into various exhibitions throughout the UK. My successful images include 26 Awards, some of which are Gold and Silver Medals. Time for a little celebration, me thinks!". We think so too, Kean !
Back to News