Latest News.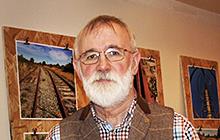 Monday 22nd February 2016
Preston and Wyre Railway
Alistair Parker is displaying his work as Artist in Residence for Wyre Borough Council at an exhibition in Thornton Little Theatre from Thursday 25th to Sunday 28th February. Local people will be taken back in time to the inauguration of the railway from Preston to Fleetwood in what promises to be a very interesting exhibition. Alistair called upon fellow Poulton PS member Dave McGuire to contribute some of the artwork for the project. Why not go along and give your support to Alistair and Dave over the four-day show.
Back to News