Latest News.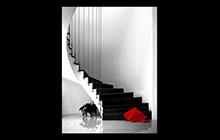 Friday 06th May 2016
Ladies win the Battle !
The annual Battle of the Sexes was won by the Ladies Team this year, by 536 points to the chap's 528. The judge was Paul King CPAGB, who stepped in at short notice to referee the match. At half time, the men were narrowly in front by 258 points to 255, but this lead was wiped in the second half. The fourteen images that gained maximum marks can be seen on the Internal Competitions Results page. Pictured here is one of them : "The Red Bag", a stylish image by our Secretary, Margaret Bamford.
Back to News