Latest News.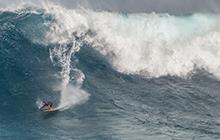 Saturday 01st October 2016
L&CPU Individual Awards
Poulton members did exceptionally well in the Lancashire and Cheshire Photographic Union's Individual Competition this year. Star performers were Paul Cowan and Ann Rhodes, who both gained first place awards. Paul won the Best Colour Print award for his 'Running Before the Wave' (pictured) and also came first overall in the Colour Print section. Ann came first overall in the Nature Digital Category. Many other members were successful - you can see the full list of awards on the External Competitions' page of this website.
Back to News