Latest News.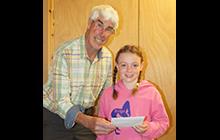 Saturday 01st October 2016
Residents' Competition
The Residents' Competition was held over the summer months, with entries in two categories. The senior competition was won by Wieslaw Antosik with his photograph of a 'Blackpool Bus'. The Junior Competition was won by Billy Jean Franks with an imaginative composition called 'Anxious', whilst Beth Gregson came second with her picture of a 'Yellow Finch'. Beth is shown on the left collecting her award from new Chairman Eddie Garside. The full results can be seen via the External Competitions' page of this website or downloaded from the Downloads' page.
Back to News