Latest News.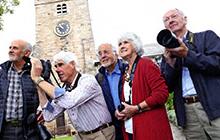 Wednesday 26th October 2016
Poulton's Passionate People
Lancashire Life reporter Emma Mayoh spent a day in Poulton last month talking to some of the groups who meet in the town. Her report appears in the November edition of the magazine, under the cover banner "Poulton's Passionate People". In addition to the 'The Poulton People's Choir' and the 'Vicarage Park Community Centre', Emma interviewed five members of Poulton Photographic Society. They were Eddie Garside, Christine and Alan Storey, Peter Guy and Tom Richardson and the photo on the left reproduces that used in the magazine. Emma's report highlighted this year as being the 50th Anniversary of PPS and also the many successes of its members.
Back to News