Latest News.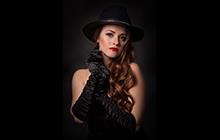 Tuesday 22nd November 2016
Another year, another win
Garstang Camera Club were this year's hosts of the 5-Way PDI Competition. Poulton once again came first with 265 points when all the marks were counted up. Three Poulton members gained maximum points. 'Stacie' by Alan Duggan BPE1* is pictured on the left, whilst Richard O'Meara's 'Kestrel with Vole' and Gillian O'Meara's 'Magpie Thief' also gained maximum points. The full results can be found on the External Competition's page of this website.
Back to News