Latest News.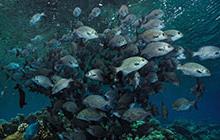 Friday 12th May 2017
Battle of the Sexes 2017
In one of the closest run competitions of recent years, the Men overturned last year's winning margin of the Ladies' team by a mere two points. Judge Roger Goodwill, an Honorary Life Member of the Society, awarded 357 points to the Men and 355 to the Ladies. Richard O'Meara topped the scoreboard with 19 points for his 'Shoal of Spawning Rudderfish' (pictured).
Back to News