Latest News.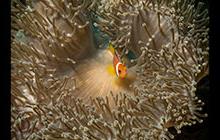 Saturday 03rd June 2017
Best Print in Exhibition
Gillian O'Meara keeps success within the family as she adds The Roger Goodwill Trophy to her mantlepiece alongside husband Richard's trophy for best Digital Image in our 2017 Exhibition. Gillian won her trophy for Best Print in Exhibition with her underwater photograph of "Anemone with Resident Clownfish".
Back to News