Latest News.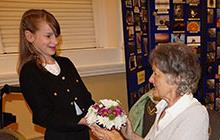 Tuesday 06th June 2017
Awards Presentation Evening
The President of the Lancashire and Cheshire Photographic Union, Garth Tighe CPAGB, opened our 51st Annual Exhibition and presented the trophies and awards on Moday evening, 5th June. The room was crowded as Nina presented flowers to Ann Goodwill, wife of Honorary Life Member Roger Goodwill. Chris Whyham, another Honorary Life Member, attended with his wife Mary, who also received flowers from the Society.
Back to News