Latest News.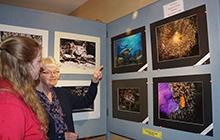 Saturday 17th June 2017
Best Print in Exhibition 2017
There was a tie for Favourite Print in Exhibition, as voted for by visitors. The Joint Winners were Gillian O'Meara for "Anemone with Resident Clownfish" and John Collier for "Gibson Mill". 153 people voted and over half the prints scored at least one vote, showing the wide range of taste of the visitors. Thanks to all visitors for voting.
Back to News