Latest News.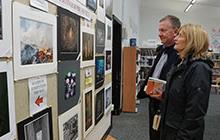 Wednesday 30th August 2017
Summer Exhibition at Poulton Library
The 2017 PPS Summer Exhibition is now on in Poulton Library and will run until 9th September. The entries for the Residents' Competition are also on display alongside our own work. The winning entries in this competition can be seen by clicking the link on the External Competitions page of this website.
Back to News