Latest News.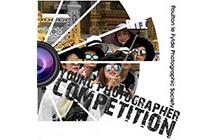 Monday 26th March 2018
Young Photographer and Residents' Competitions
Details of the 2018 Young Photographers' Competition will be found on the Homepage of this website. Entries close on Friday May 4th. Details for the 2018 Residents' Competition will also be found on the Homepage. The closing date for this competition is later in the year - Saturday July 14th.
Back to News