Latest News.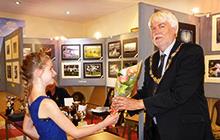 Tuesday 05th June 2018
Presentation Evening
The President of the Lancashire and Cheshire Photographic Union, Ian Aldcroft ARPS, opened our 52nd Annual Exhibition and presented the trophies and awards on Moday evening, 4th June. The room was crowded as Nina Wood presented flowers to Ian (pictured) and Honorary Life Member Roger Goodwill for their respective wives.
Back to News