Latest News.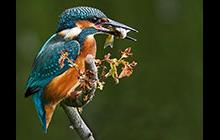 Friday 08th June 2018
Glennie Nature Competition 2018
The results of the 2018 Glennie Nature Salon are just in and the great news is that Poulton came fifth out of 63 world-wide entries. This result continues the success of recent years, with Poulton coming fifth in 2014 and second in 2016. Two members achieved Best in Category for their images. They were Phil Hodson and his "Kingfisher with Roach" (pictured) and Gillian O'Meara with her "Clownfish in Anemone". The club's stunning entry can be seen on the external competitions page of this website.
Back to News