Latest News.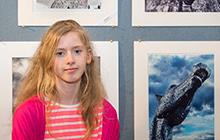 Saturday 09th June 2018
L&CPU Young Photographer Competition
Congratulations to Sienna Gartside for coming Third in the L&CPU's Young Photographer competition. Sienna is seen pictured alongside her print of one of the Kelpies in our recent Annual Exhibition at Poulton. This was one of the images she submitted to the L&CPU as part of her successful entry. Sienna has done very well with her series of Kelpie photographs - giant horse sculptures near Falkirk in Scotland.
Back to News