Latest News.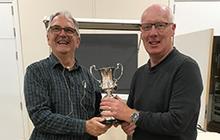 Thursday 06th September 2018
Residents' Competition Winner
The winner of this year's Residents' Competition, Russell Smallwood, is seen here collecting the Festival Cup from new Chairman Alan Cameron. As well as his trophy, Russell wins a year's membership of the Society. As previously mentioned, Russell was also runner-up in the competition.
Back to News