Latest News.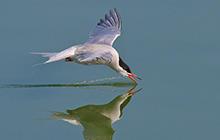 Thursday 31st January 2019
The GB Cup - Nature Section
The results of the Nature Section of the GB Cup are now in and we have achieved our best ever position. The PPS club entry scored 123 points, tying with Wigan 10 for third place. Only Rolls Royce Derby PS, first place with 129 points, and Chorley PS, second place with 125 points, were ahead of us out of 86 entries. Ann Rhodes' 'Skimming Tern' (shown here) scored 13 points from the judges, as did Richard O'Meara's 'Young Starling Dispute' and 'Starling Dance' and Gill O'Meara's 'Starling Dispute'.
Back to News