Latest News.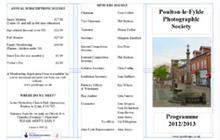 Tuesday 30th April 2019
Changes of Programme
A change of programme has been forced on us due to the Local Elections on Thursday 2nd May and the European Elections on 23rd May when our clubroom is being used as a Polling Station. The scheduled "The Nature Group Presents" on May 2nd is now moved to Thursday 16th May, whilst The PPS Photographic Outing moves forward two weeks to 2nd May. The outing will be to Fleetwood and members should meet at 7.00pm at the car park beside the Cabin Cafe, near the coastguard lookout tower, where Princes Way and Beach Road meet. The 'Battle of the Sexes' evening on 23rd May is cancelled and another outing to Fleetwood will take place - this time meeting at the Marine Hall at 7:00 pm.
Back to News