Latest News.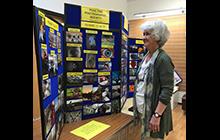 Thursday 16th May 2019
Young Photographer Competition and Exhibition
Congratulations to Sofia Bury on winning the Junior Section of the Young Photographers Competition 2019 with "Eye on You" and to Max Bailey the Senior Section with "Street Wise". There was a very large entry of 186 images in both sections. All the entries for this year's competition are now on display in Poulton Library until Thursday 30th May. They will then move to our own Annual Exhibition in the Masonic Hall until Saturday 8th June. The award-winning images will be found on this website via links on the home page.
Back to News