Latest News.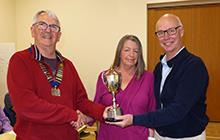 Thursday 13th June 2019
Members of the Year 2019
Team O'Meara were voted Joint Members of the Year for 2018-19 by the Committee, after nominations were canvassed from members. Richard and Gillian are seen here accepting the Warton Cup from Chairman Alan Cameron. As well as both being superb nature photographers, Gillian has run the coffee-break refeshements for the last four years, whilst Richard has helped out with the internal club competitions and has been voted in to do the job full-time next year. Congratulations to both of them!
Back to News