Latest News.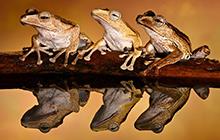 Sunday 16th June 2019
The Public's Favourite
Each year visitors to our Exhibition are asked to vote for the print that they like best. In pride of place this year was Ann Rhodes' "Tree Frogs" (pictured). In close second place were three prints: "Luskentyre" by Tom Richardson, "Blea Tarn" by Dave Roberts and "Blue Tit Gathering Nest Material" by Gillian O'Meara. They have good taste!
Back to News