Latest News.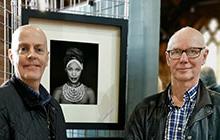 Sunday 08th December 2019
Masters of Print 2019
We have two 'Masters of Print' in Poulton Photographic Society. In this third year of the competition, both Kean Brown and Richard O'Meara had their prints accepted into the Exhibition, which is being staged at The Bull Ring in the centre of Birmingham for the first time. Kean's print is titled 'African Beauty' whilst Richard had 'Egret In Mist' accepted. Only 60 people were chosen from over 1000 images, so their acceptances mark a great achievement. Both photographers have had previous success in the Exhibition: Richard in 2017 and Kean last year. The 'Masters of Print' Exhibition runs in The Bull Ring, Birmingham, until 5th January 2020. Well done both!
Back to News