Latest News.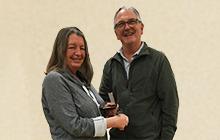 Monday 09th March 2020
PAGB Nature Photographer of the Year
We have already reported the Society's success in this year's GB Cup, a PAGB competition run for all Photographic Societies in the UK. Even better news has just been announced in the PAGB Newsletter. Our own Gillian O'Meara has been awarded best Nature Photographer for her overall entry. Pictured is her "Starling Dispute" which won an individual Bronze Medal in the 'Best Dispute' section, but the quality of her other entries won her the overall Gold Medal in the competition. The photo shows her receiving her PAGB medal from PPS Chairman Alan Cameron. Well done, Gillian.
Back to News