Latest News.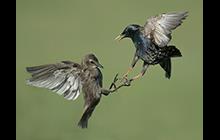 Wednesday 22nd April 2020
Glennie International Nature Competition 2020
The results are now in for this year's Glennie Competition, which the club won in 2019. We did not quite match this pinnacle of achievement this time, but still did exceptionally well to gain fifth place. Especially successful was Gill O'Meara, who gained First in Category for her "Starling Family Arguing" (pictured) and a Merit Award for her "Osprey with Bird Wrasse". Other Merit Awards went to Ann Rhodes for "Purple Heron with Vole"; Alan Storey for "Mating Blue Butterflies" and to Richard O'Meara for "Hawksbill Turtle - Red Sea".
Back to News