Latest News.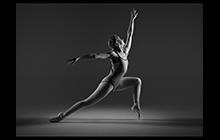 Friday 12th June 2020
Best PDI in Exhibition
Winner of the Best Projected Digital Image (PDI) in the 2020 Exhibition was Andrew Daniels with his graceful image of the 'Ballet Dancer' (pictured). With this award he gains 'The Poulton-le-Fylde PS Trophy'. Andrew is one of our Developers and he is also to be congratulated in winning the 'Photographer of the Year' award for the most League points. The final league table for the POTY award is now posted on the Downloads page of this website. One thing is certain - Andrew will be in the Advanced class next year!
Back to News