Latest News.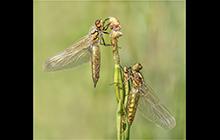 Monday 23rd November 2020
L&CPU Knock-Out Results 2020
Some more good news - we came second out of 41 clubs in Saturday's L&CPU Knock-Out Competition. Each club was allowed four images, which were judged in turn by Mike Sharples MPAGB ARPS EFIAP ABPE of the Midland Counties Photographic Federation. Any image knocked out in the first round scored one mark. Those knocked out in the second round scored two marks, and so on. Alan Storey's 'Emerged Four-Spot and Broad-Bodied Chasers' (pictured) made it to the penultimate round, so scoring six marks. Images by Richard and Gillian O'Meara gained five marks each. The total scored by Poulton was 17 marks, beaten only by Chorley PS. Three clubs tied for third place. More detailed results, and all the Poulton images, can be found on the External Competitions page of this website.
Back to News