Latest News.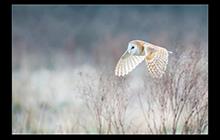 Saturday 15th May 2021
L&CPU Individual Competitions
The L&CPU Individual Competitions were held last weekend with some splendid results for PPS members. Richard O'Meara came third overall in the Photographer of the Year and Digital Worker of the Year classifications. He was second in the Digital Nature section. Phil Hodson's image of "Barn Owl Icy Dawn" (pictured) came third in the Digital Nature class. In addition, Richard gained three Commends, Phil two Commends and Gill O'Meara two Commends, all in the Digital Nature section. Well done all.
Back to News