Latest News.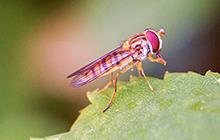 Sunday 17th October 2021
Set Subject 1 - A bird/animal in the garden
The first competitive event after our Covid-19 interlude was held last Thursday in our clubroom. The Set Subject was 'A bird or animal in the garden'. The winning image was 'Hoverfly' (pictured) by Clive Joyner. Second place went to 'Starling Battle' by Phil Hodson who also took 'Siskin' in third place. All three images scored 19/20. Highly Commended was 'Goldfinch' by new member Wendy Martin, which scored 18/20. The judges for the evening were Chairman Alan Cameron and Vice-Chairman Steve Cushing and the competition was well supported with 49 entries.
Back to News