Latest News.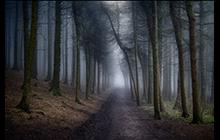 Sunday 14th November 2021
L&CPU Knockout Success
The L&CPU Knockout Competition was held on Saturday 13th November, with entries from 42 clubs. Once again our club did well, finishing in equal fifth place alongside Chorley PS and three other societies. Southport PS were the overall winners. Best result of all, however, was member Tim Gartside winning the Best Image Trophy with "Darkness Descends" (pictured), a wonderfully atmospheric shot taken in the Forest of Bowland. The same image also won the inaugral 'Scapes' section of our first PDI competition of 2021-22, under the title "Darkness Descends in Foggy Bowland". Well done Tim!
Back to News