Latest News.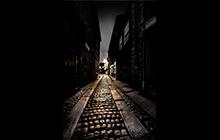 Saturday 29th January 2022
Set Subject 2 - Shadows
'Shadows' was the theme of our second set-subject competition. There were 53 entries and the images were judged by Chairman Alan Cameron and experienced member Tom Richardson. Two images scored the same top mark of 19/20, both by Tim Gartside. These were 'The Shambles' (pictured) and 'Cuba Shadows'. Six other images were in the runners-up position with 17 marks. These were 'Look at Me' (Jean Gregson), 'Millenium Bridge, Salford' (Wendy Martin), 'Paris Square' and 'Winter Trees' (both by John Collier), 'Four Candles, Four Shadows' (Russ Tabiner) and 'Turkish Bread Delivery' (Peter Knight).
Back to News