Latest News.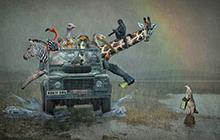 Wednesday 06th April 2022
L&CPU Club Competitions
The L&CPU Club Competitions were held over last weekend at the Elm Bank Conference Centre, Eccles. There were five categories and Poulton again did very well, winning the Crowther Cox Cup for Nature Prints. We also came second to Chorley PS in the Open PDI category and were very well placed in the Nature PDI, Open Colour Prints and Open Monochrome Prints. Successful contributors (scoring 13 or more) from Poulton were Craig Bevington, Tim Gartside, Peter Guy, Phil Hodson, Peter Knight, Gillian O'Meara, Richard O'Meara (whose 'The Animals Came in Four by Four' was one of the images scoring 15) and Alan Storey. Well done, all!
Back to News