Latest News.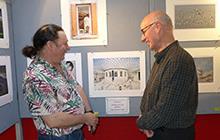 Monday 06th June 2022
2022 Annual Exhibition
Our 2022 Annual Exhibition opened in the Masonic Hall, Poulton, on Friday 3rd June and will run until Saturday 11th June. It is good to see prints hanging on the walls of the Masonic Hall again after the break over the last two years. Tim Gartside (on the left) won Best Print in Exhibition for his 'British Museum, London' (pictured). Richard O'Meara on the right won Best Digital Image for his imaginative 'The Animals Came in Four by Four', which can be viewed on the Internal Competitions page of this website. Retiring Exhibition Secretary Joan Gaffiney judged both competitions. She was presented with flowers by the Vice-President of the L&CPU, Rob Hockney, for her 20 years service in the job. Rob also presented the awards and officially opened the Exhibition on Monday 6th June.
Back to News