Latest News.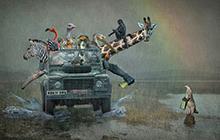 Friday 11th November 2022
5-Way PDI Battle 2022
Poulton were hosts for the annual 5-Way PDI Battle against Bispham PS, Garstang CC, Lytham St Annes PS and North Fylde PS. The judge was Nick Hilton EFIAP DPAGB BPE5 from Southport CC. There was a very good turnout for the evening, and everyone enjoyed Nick's perceptive comments on each image. Poulton members further enjoyed the announcement of scores at the end of the evening, coming first with 269 points. North Fylde were second with 258, Lytham 247, Garstang 231 whilst Bispham managed 219. From Poulton, Gill O'Meara scored 20 with her "Young Starling Squabble" whilst husband Richard did the same with his "Juvenile Woodpecker and Starling Dispute" and "The Animals Came in Four by Four" (pictured).
Back to News