Latest News.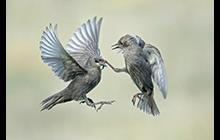 Saturday 31st December 2022
FIAP Worldwide Nature Biennial
The PAGB recently put together a digital entry for the FIAP Worldwide Nature Biennial competition. 20 images were selected from the UK in a themed entry with no more than 2 per person. Richard and Gill O'Meara were delighted to have 2 each of their images chosen, thereby having 20 percent of the UK entry! The UK came 4th overall. Congratulations must go especially to Richard, whose image 'Juvenile Starling Aggression' (pictured) won a Silver Medal. The four images from Poulton can be viewed on the External Competitions' page of this website.
Back to News