Latest News.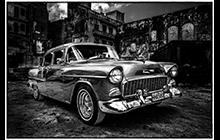 Saturday 31st December 2022
Masters of Print 2022
The 2022 Masters of Print Exhibition, run by the PAGB, once again features photographs from Poulton members. Especial congratulations must go to Tim Gartside, who won the Gold Medal (Monochrome) for his 'Cuban Beauty' (pictured). Gillian O'Meara's 'Clownfish In Bubble Anemone' gained her a Silver Medal in the Nature Section. The Grand Opening of the Exhibition will be on 4 February 2023 in St Martin in the Bull Ring, Birmingham.
Back to News