Latest News.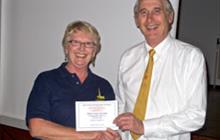 Saturday 05th November 2011
JFPS Digital Match Competition
After winning the 4-Way DPI Competition on Thursday, the club continued its winning streak the following night with a win in the Joint Fylde Digital Image Match competition. This light-hearted competition was judged by Gordon Jenkins APAGB of Chorley, who entered into the spirit of the competition splendidly. It was very fortuitous that Poulton won as the trophy was sitting on Chairman Val Fillingham's sideboard at home, Poulton having won the equivalent competition last year. The full results of the competition can be found on the external competitions page of this website.
Back to News