Latest News.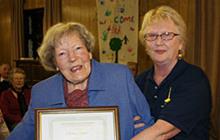 Thursday 17th November 2011
ChloŽ Johnson FRPS EFIAP APSA
A great honour was bestowed on Poulton-le-Fylde Photographic Society when ChloŽ Johnson FRPS EFIAP APSA accepted Honorary Life Membership of the Society. ChloŽ had been a long-standing member of Blackpool Photographic Society until that Society closed down in 2001. She immediately transferred her allegiance to PPS and we have greatly valued her constructive comments ever since. ChloŽ's name is known and respected around the world, as evidenced by her FIAP and Photographic Society of America honours - the latter bestowed on her through her contributions as a lecturer and judge in the US. We hope that ChloŽ will be able to maintain her association with our Society, despite her frailties. On the evening of the presentation of Life Membership, by Chairman Val Fillingham (shown in the photo), ChloŽ was still able to give sharply focussed comments about the colour photographs on display.
Back to News