Latest News.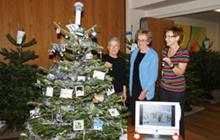 Wednesday 30th November 2011
Christmas Tree Festival
The annual Christmas Tree Festival gets underway in Poulton Methodist Church on Thursday 1st December. The three day festival is supported by a wide range of local organisations, including Poulton Photographic Society. Our tree has been decorated on the theme "White Christmas" and member Sheila Davies has produced a supporting AV, running continuously alongside. The Festival is free to visit and is open Thursday: 2 - 6pm, Friday: 10am - 7pm, Saturday 10am - 4pm.
Back to News