Latest News.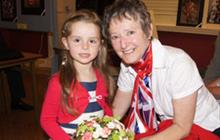 Wednesday 06th June 2012
Opening of our 2012 Exhibition
Our 46th Annual Exhibition was opened in the Masonic Hall, Poulton, by Henry Mullarkey, President of the Lancashire & Cheshire Photographic Union. Henry's wife, Jean, was presented with a bouquet of flowers by Grace Cudlip at the start of the evening's proceedings. The Exhibition is open every day until Saturday 9th June.
Back to News