Latest News.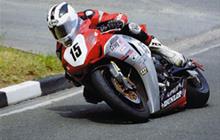 Friday 13th July 2012
Residents' Photographic Competition
The Residents' Competitions have been won this year by two superb images. The Senior section was won by Mr Don Sutton with his photo 'Round the Bend' (pictured) taken during the Manx TT. Don wins the Festival Cup and a year's membership of the Society for this entry. The Junior winner was Aimee Desmond with her imaginative photo entitled 'In My Hands'. Aimee wins a cash prize for her entry and she also gained a Highly Commended award with another creative image, 'Homeless'. All the award-winning entries may be viewed via the External Competitions page of this website or by clicking here.
Back to News