Latest News.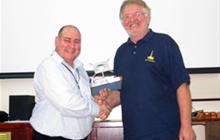 Thursday 08th November 2012
4-way Success (again!!)
Poulton PS were once again successful in winning the 2012 4-Way DPI Battle, hosted by Garstang CC. The judge was Gwynn Robinson FRPS CPAGB, seen in the photo presenting the trophy to club Chairman Tony Collier. Tony was one of the four Poulton members to gain full marks in the competition. Full results will be found on the External Competitions page of this website.
Back to News