Latest News.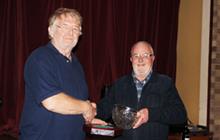 Saturday 08th December 2012
Joint Fylde DPI Knockout
Another competition, another success! We were the host of this year's DPI Knockout Competition and therefore had the privilege of selecting the judge, Tony Duffey CPAGB of Southport Photographic Society. Tony did us proud and at the end of the competition the last two images standing were both from Poulton. These scored the top two marks overall and enabled us to win by a substantial margin. The full results may be found on the External Competitions' page of this website or by clicking here.
Back to News