Latest News.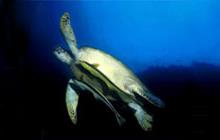 Wednesday 16th January 2013
Gillian O'Meara's PAGB Ribbon Success
As previously mentioned, Alan Storey and Gillian O'Meara were awarded PAGB Ribbons in the Natural History Section of the Interfederation PDI Competition. Gillian and her husband Richard are both keen divers and regularly enter stunning underwater images in competitions. Gillians shot here is called "Turtle with Ramoras".
Back to News