Latest News.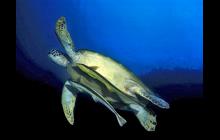 Wednesday 27th March 2013
Glennie World Nature Club Competition
The results are now in for the 2013 George W. Glennie Nature Club Competition, held in the USA every year. 10 images were needed and Poulton PS were the best placed British club, coming 12th out of the 97 clubs which entered. Especially pleasing was 4th place in the Diversity Section, in which at least six of the club's ten images must be in different sections. Three members picked up awards: Gill O'Meara gained Best Marine/Freshwater Life with her 'Turtle with Remora' (pictured); Alan Storey won 1st Place in the Dragonflies, Grasshoppers and other allies with his 'Broad Bodied Chasers' and Richard O'Meara gained a Merit Award for his 'Moray Eel with Hunting Lion Fish'. A further two members also had their work accepted for the Exhibition. The full entry from Poulton can be found on the Downloads page or click here.
Back to News