Latest News.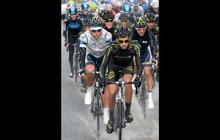 Tuesday 04th June 2013
Best Print In Exhibition
Not for the first time, Tom Richardson ARPS DPAGB EFIAP BPE4* has snatched the Best Print in Exhibition award at our 2013 Annual Exhibition, which runs from Friday 31st May until Saturday 8th June. The winning print is titled 'Leading the Chase' and was taken in heavy rain as last year's Tour of Britain cycle race came down from Carlisle to Blackpool. The print won the Roger Goodwill Trophy and was picked out by Roger himself, one of four life members of the Society.
Back to News