Latest News.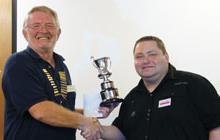 Thursday 05th September 2013
Winner of the Festival Cup
The winner of this year's Residents' Competition is Richard Forster with his photograph entitled 'Morning Song'. Richard is seen here being presented with the Festival Cup by Chairman Tony Collier. He also wins a year's free membership of the Society. Richard's photograph, and those of the other award winners, can be seen on the External Competitions page of this website.
Back to News